Review: The Invincible Iron Man #1 (2022)
"The Invincible Iron Man #1 is the perfect jumping-on point for new fans of Tony's exploits, while still respecting the long history in which past readers have invested themselves."
The Invincible Iron Man #1 (2022)

Publisher: Marvel Comics
Creative Team: Gerry Duggan (writer); Juan Frigeri (artist); Bryan Valenza (colorist); Joe Caramagna (letterer)
Release Date: Wed, December 14, 2022
The armored Avenger known as Iron Man celebrates 60 years of comics publication in 2023, so what better time than to somewhat hit the reset button on the life of Tony Stark and his red-and-gold heroic alter ego? Today, readers get a glimpse of Tony's new status quo in Marvel Comics' The Invincible Iron Man #1 from writer Gerry Duggan, artist Juan Frigeri, colorist Bryan Valenza, and letterer Joe Caramagna.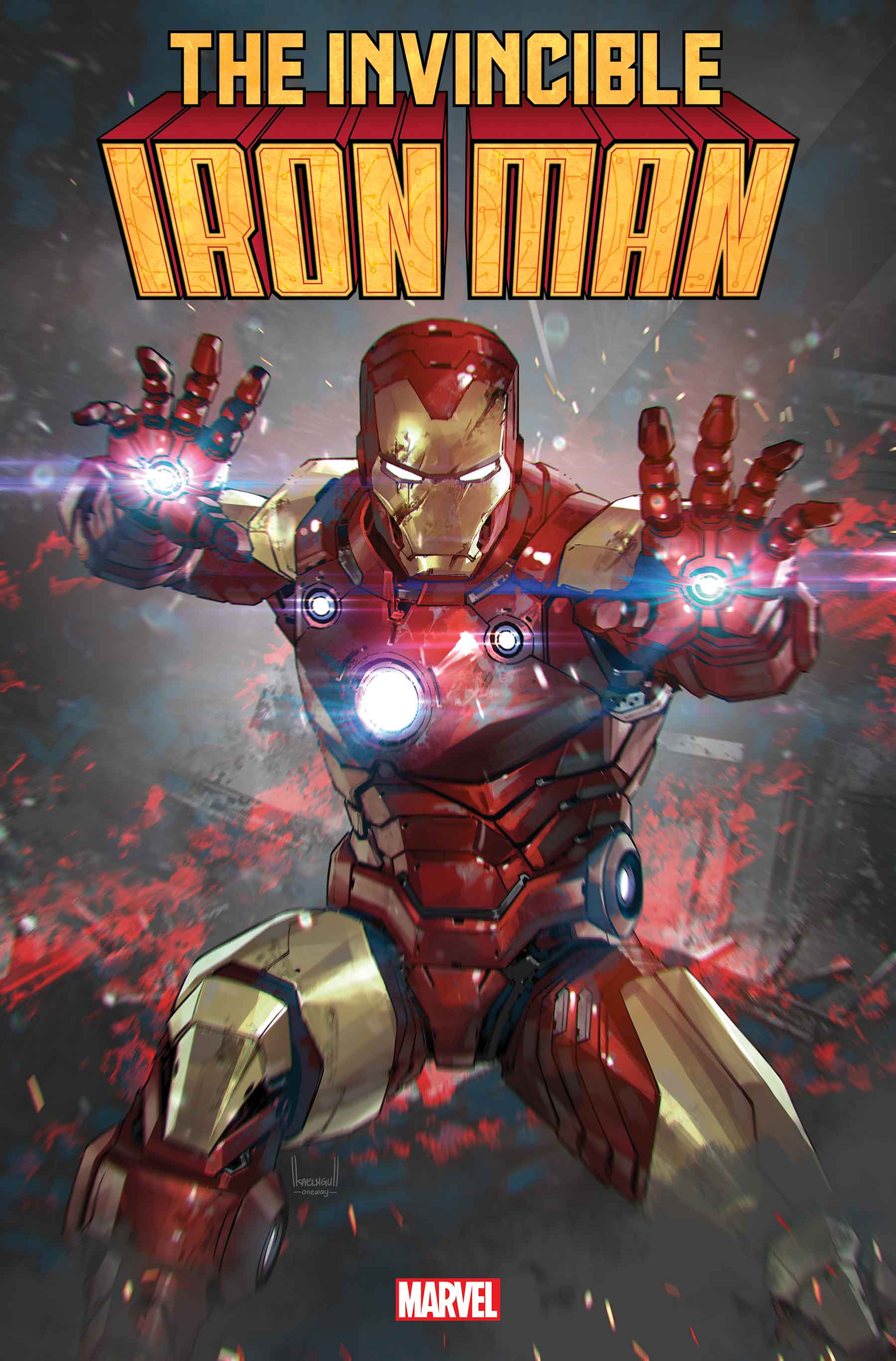 Let's get this out of the way: Yep, it's another #1 issue of a comic book character and, yes, the business side of the industry aside, there's a danger that readers will become weary of yet another reboot. However, here's the thing: the creative team pull off the rare reset where everyone will be pleased, new readers and older fans alike. How? By giving you a rundown of everything you need to know about Tony's past in the form of an in-progress memoir he's crafting before getting into his future. Using that narrative device, the CliffsNotes version of Iron Man feels like a work-in-progress, something he's editing and re-editing as he goes, giving you a glimpse of who he is and how he operates. He's a tinkerer who is, again, using that past to shape his future.
Interwoven into that narrative, Duggan also fills readers in on what Tony has been up to and where he finds himself at the beginning of this new journey: as a man of more modest means (well, modest for Tony), but a situation not from financial or personal hiccups, but for a seemingly altruistic reason. But, as always, Tony's life invites danger, and the neighbors in the apartment complex they share pay the price for his lifestyle and aforementioned tinkering. Was the explosion that claimed the life of at least one of those neighbors a result from Tony working on an arc reactor? Signs point to yes, but he's not so sure. And that's not the only obstacle with which he has to wrestle—quite literally—as another armored warrior attacks Tony, though he's not all that he seems.
These mysteries set the stage for what looks to be the narrative for the first arc the creative team is crafting, leaving our hero in not the best of places. But here's where Duggan again shows why he's one of the best in comics: He knows the dour, depressed Tony has been done before. The Iron Man he gives audiences in this inaugural issue is a little wistful and a hair dour, but he's not out-and-out despondent. He's upbeat and acknowledges that he's been down before, but never out. This is mix of dour and upbeat is Tony at his most interesting, and sets the tone for the direction Duggan seems to want to go and we're here for it.
We'd be remiss not to mention the artist wizardry from Frigeri, who sells the new life and surroundings in which Tony finds himself. The armored Avenger no longer finds himself in lavish luxury with bleeding-edge tech on all sides. His is a more modest life and Frigeri reflects that nimbly in his linework. However, he still manages to give Tony the demeanor and gait of the once-rich, showing that his body language hasn't shed the muscle memory of that past life. He's still a hero, after all, even if he's down to one Iron Man suit (or two). How Frigeri switches between the mundane and the more action-heavy scenes on a dime is impressive, as not everyone can pull it off, let alone making those scenes dynamic and interesting to look at. Valenza's colors bring the right level of brightness to Frigeri's lines, helping to convey the new life and roles Tony is straddling. And Caramagna's lettering—especially in the memoir narration—is some of the best he's ever done, in a career of no misses.
The Invincible Iron Man #1 is the perfect jumping-on point for new fans of Tony's exploits, while still respecting the long history in which past readers have invested themselves.
The Invincible Iron Man #1 is on sale now from Marvel Comics.
From the official issue description:
Tony Stark, the genius-billionaire-playboy-philanthropist, has lost it all: his wealth…his fame…his friends. But Stark doesn't realize he still has so much more to lose, especially when the assassins start to come for him! It's the beginning of the end, as the Golden Avenger must fight for his life and find out what it really means to hit rock bottom. Join Gerry Duggan (X-Men) and Juan Frigeri (Avengers) as they take Iron Man to the darkest corners of the Marvel Universe yet!
Bite-Sized Review: THE INVINCIBLE IRON MAN #1 (2022)
The Invincible Iron Man #1 is the perfect jumping-on point for new fans of Tony's exploits, while still respecting the long history in which past readers have invested themselves. Our 10/10 review.