Comics and music have a shared love of storytelling and, often, bombast, so it's no wonder that there's sometimes been an intersection of the two over the years. One such collaboration can be seen in Black Veil Brides: The Phantom Tomorrow, a new miniseries based on the album by the band Black Veil Brides. Issue #1 is out now from Opus Comics and written by Michael Moreci (Stranger Things, Star Wars Adventures), with art by Agustin Padilla. In The Phantom Tomorrow, Dennis Kane, also known as Blackbird, is a scientist who attempts to mend the mistakes he's made and attain some sort of redemption, themes that may are always engaging and fun to delve into.
Mr. Moreci spoke with me recently about the idea The Phantom Tomorrow, the inspiration behind the characters and the tale, and what we can expect to see in the series moving forward.
FreakSugar: For readers considering picking up the book, what can you tell us about The Phantom Tomorrow?
Michael Moreci: It's a gothic revenge/redemption story about a man with high professional ambitions who pays the price, personally, for his reach. It's a classic story spun in a new and exciting way—it's like Year One blended with The Crow.
FS: The book feels very much like it's the marriage of different genres. What are some of the influences that shaped The Phantom Tomorrow?
MM: I mentioned two in the previous answer, but a lot of this is shaped by the music of Black Veil Brides. They are such a tremendous and unique band—they have this operatic quality, in my opinion, driven by big music and big lyrics. It's almost stadium rock but with an intimate sensibility. That says a lot about the comic, too.
FS: Dennis Kane/Blackbird is a man who is caught between two planes. What can you tell us about him and the cast of the book?
MM: I think that's a big theme going on—people trapped between competing worlds, competing interests. At a certain point in everyone's life, you realize you can't have it all, but trying to do so is nothing but damaging—to yourself and to others. This book exists in that space, where you start to realize what's important to you and how to obtain it. Dennis's fault is he realize too late, and now he has to fight to get back what he lost.
FS: The Phantom Tomorrow is very much both gorgeous and appropriately creepy. What can you tell us about the collaboration with the rest of the creative team?
MM: Working with the band has been great. They are a creative force, especially Andy. It's been a joy to collaborate with people who have so much enthusiasm and passion.
FS: As the solicitations say, Blackbird becomes a "beacon of hope to the downtrodden." What kinds of themes do you explore in the series?
MM: In addition to what I mentioned before, about learning to make those choices, this is also a story about empowerment, especially those who've had everything stripped away from them. It's about rising up, personally and with others, and finding redemption.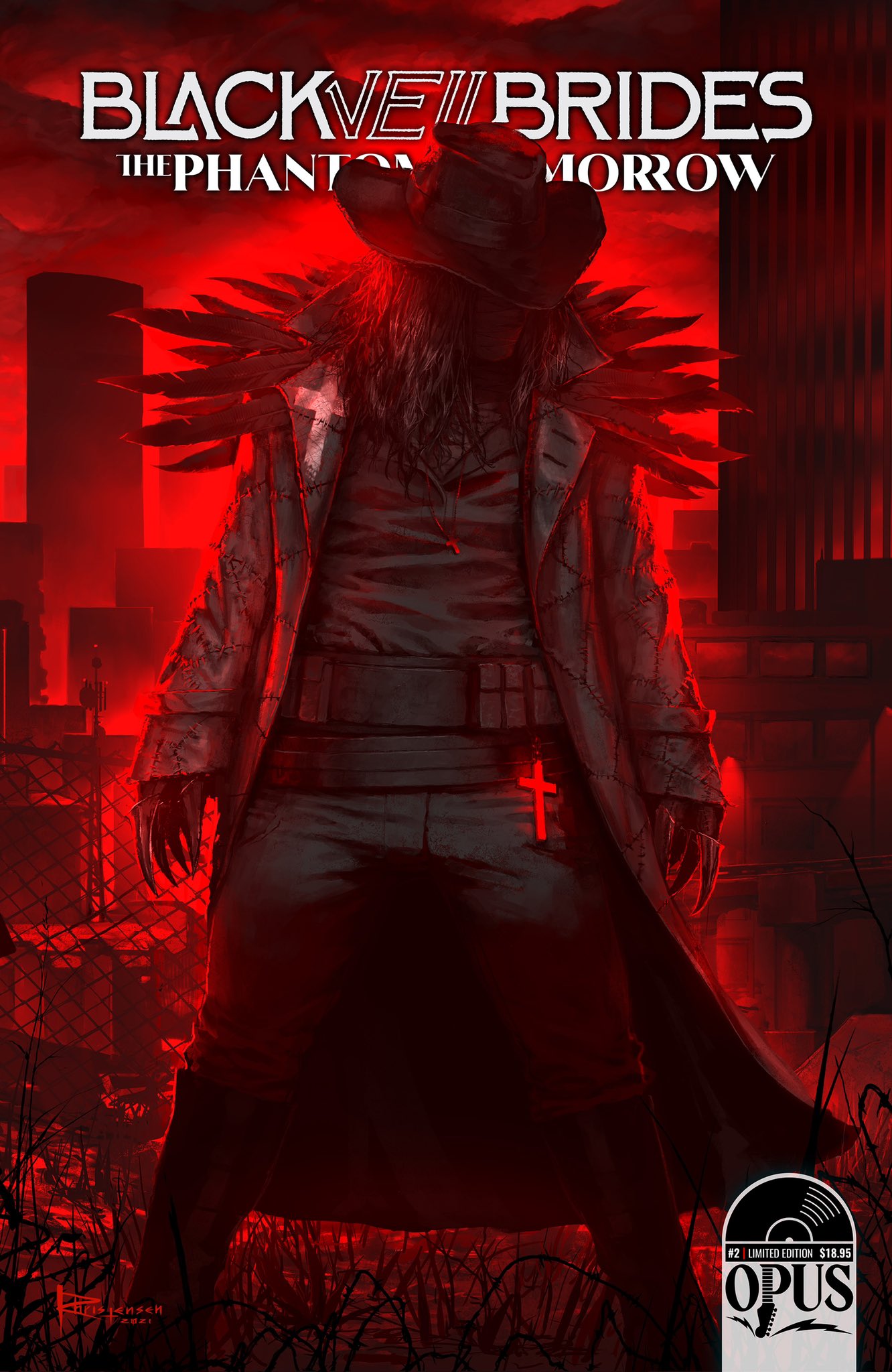 FS: What can you tell us about some of the other projects you've been working on for Opus Comics?
MM: I wrote a recent issue of Death Dealer, which was an absolute blast. Getting to play in Frank Frazetta's sandbox is a dream come true.
FS: What would be your final pitch to readers to check out The Phantom Tomorrow?
MM: I think readers who are into the books I mentioned as influences as well as Black Veil Brides will love what we're doing here. It's a big story—big emotions, big themes, true to how gothic fiction works.
The Phantom Tomorrow debuts Wednesday, January 11th, 2023, from Opus Comics.
From the official issue description:
The Phantom Tomorrow #1 (of 6)
Andy Biersack & Michael Moreci (W) • Agustin Padilla (A) • Ryan Christensen (CA)
Scientist Dennis Kane has an intellect matched only by his massive ego. When his hubris causes the world to fall apart around him, a dark avenger is born of his agonizing shame.
A mysterious figure caught between life and death, the "Blackbird" desperately seeks redemption, willing to fight through Hell and back to get it.
*Retailers: See your order form for incentive information.
$6.66 • 40 pages • Cardstock cover
In shops: Jan. 11, 2023
*Retailer incentives:
For every 5 copies ordered, retailers may purchase one Blackbird Action Figure variant cover
For every 10 copies ordered, retailers may purchase one variant cover by Agustin Padilla