If our religions, our mythologies, and our stories tell us anything about prophecy, it's that expectation can be a weighty thing. Putting responsibility on one person's shoulders can make chosen ones excel—like Jesus' trials in the Christian biblical narrative—or fall, as in the story of Darth Vader in the Star Wars saga. And yes, while those two are very disparate tales, they both echo the burden and cost that can be heaped on any person who is thought to be "the chose one."
That is one of many ideas that is at the heart of writer Brian Michael Bendis and artist Jacob Edgar's new comic series The Ones, which debuted this week from Dark Horse Comics. In The Ones, a group of individuals who were all saddled with the idea they were the chosen one in their traditions and narratives to battle the "real" chosen one. But is this chosen one evil? What does that revelation do to their lives, as well as how they see themselves now?
I spoke with Mr. Edgar and Mr. Bendis recently about the story behind The Ones, playing with archetypes and characters, and the creative process behind bringing the book to life.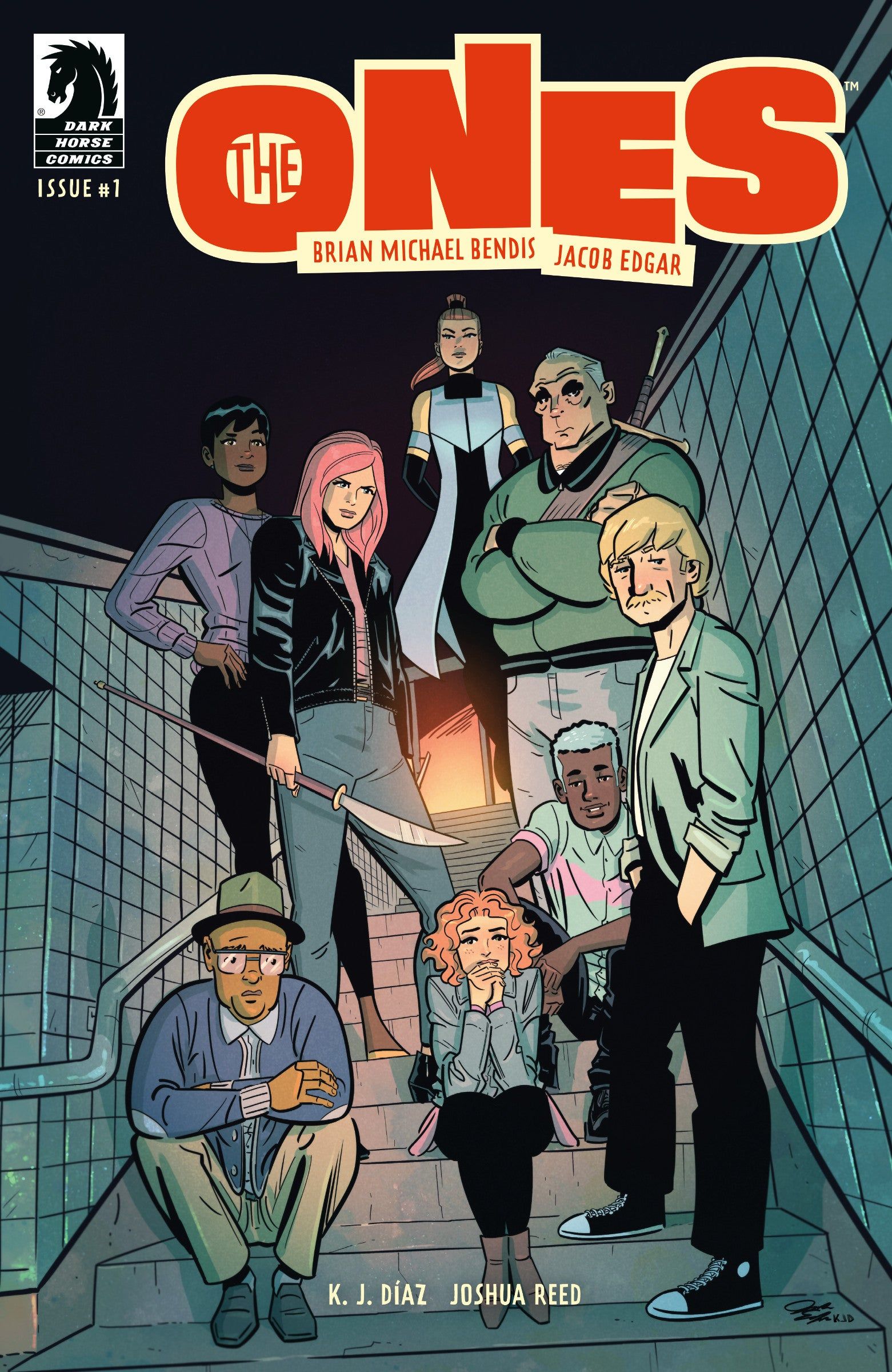 FreakSugar: For folks who might be considering picking up the book, what is the conceit of The Ones?
Jacob Edgar: The basic idea is a group of characters who in various mythologies or legends were led to believe they were "THE ONE" or "the chosen one" have to come together to try and stop the ACTUAL…ONE, who happens to be…evil? The devil incarnate? You'll find out!
Brian Michael Bendis: Perfectly said. It's a fun book with characters Jacob and I absolutely adore and we're really excited to introduce you to them!
FS: We meet a quite robust cast in issue #1. What can you tell us about the characters in the series?
JE: All of the characters are, I wouldn't call them spoofs, but they are playing off of established genre archetypes that we've seen before. But then built on top of that is everything that Brian and myself brought to them, to make them actual unique people. And we're meeting all of "The Ones" at a place in their lives where they are all questioning their worth and purpose, some more than others. So, when Wilson comes along and gives them this epic mission, some of them have saved the Earth before, some of them have been waiting for a calling, it sets off some pretty big reactions.
FS: The book centers on a prophecy of apocalyptic proportions. What are your influences in shaping the story?
JE: For the tone I'm trying to convey in the art, I'd equate it something like What We Do in the Shadows or Galaxy Quest, things like that. Satire is an element of our story and definitely it's a comedy, but it's also dealing with some very serious and gruesome elements that shouldn't exactly be slapstick. And if you look at What We Do in the Shadows or Galaxy Quest as examples, they are acting as satire for different genres but they're also very successful as stories IN those genres. You feel a genuine threat, and sense of loss, in Galaxy Quest, at a certain point. So, the hope is to sell the comedy, yes, but also the heart and the stakes of the story.
BMB: Those are great. Also, I think for this comedy nerd things like "Rifftrax" and "How Did This Get Made" have filled my heart with irreverent love for genre silliness that definitely infected all of this.  Plus, any and all Armondo Iannucci who is in some ways so influenced by "Python". As are we all. My comedy nerdiness is all over the place.
FS: As I read issue #1, I couldn't help but think of actors in media, gifted students I knew: anyone saddled with expectations early on in life who felt burdened late in life with those expectations. Did that idea play any part as you put the story together?
JE: This is more for Brian to answer I guess, but I'm sure we all know people like this. Maybe we are that person! Maybe you don't know a demon hunter or a centuries-old warrior, but these characters are people with relatable burdens and fears that readers will hopefully latch onto.
BMB: First of all, I didn't chime in on those other questions because those were great answers. But YES!
I can't tell if a lot of people in other fields even clock this, but in creative communities, you absolutely get to see the sometimes-spectacular moments of true genius ascending at any time in any person's career trajectory. The whole journey is interesting to me. It was a BIG theme in a lot of powers stories as well. It fascinates me.
I've been thinking about it for so long and in The Ones we get to have a lot of fun with it.
FS: You have a stacked creative team on the book. What can you tell us about your collaboration with those creators?
JE: I'll skip the fanboy gushing that Brian will squirm over and just say he has so much energy and joy and excitement for making comics, and I think that comes out in the work by the whole team. This has also been maybe the most freedom I've had with interpreting scripts from a writer. I'm combining panels and adding panels and adding pages and completely changing layouts, it's not exactly what they call the old "Marvel-style," but it's been really fun and exciting to truly co-create the storytelling together. Also, I have been genuinely laughing out loud when I'm reading the scripts, that's a true story.
I've worked with K.J. Diaz for a few years now, going back to an Army of Darkness series we worked on at Dynamite. He gives my art exactly the kind of pop and dynamism I'm looking for, without being overworked or over-rendered. When Brian and Dark Horse asked who I wanted to color this book, immediately I asked if we could get K.J., and we did!
Josh Reed is doing a stellar job lettering the series, and I hope my layouts aren't giving him too many headaches. It's a lot of characters and lot of interacting dialogue, so apologies to Josh for any sins that he had to make work.
BMB: Jacob, I am so happy to hear you say this. I love sharing fun creative space like this. Everyone did amazing work but I would love to single out josh who is our letterer on a lot of Jinxworld projects. He is an amazing collaborator. I often drive him nuts with nit-picky stuff. I can't seem to stop so I hope this shout out eases the pain somewhat.
FS: Do you see The Ones as a self-contained story or multi-issue? It feels like a concept that could go down so many interesting rabbit holes.
JE: This initial story will be four issues, but definitely readers will notice a lot of doorways and pathways as we go that could lead to more stories. We've filled the sandbox and dumped out our toys, we'll see where they take us.
BMB: Nothing would have me happier than to do this all the time. I have found dozens of doorways for this to go down, I want to do all of them.
FS: Brian, after reading issue #1, it still has your unmistakable style to it, but it feels different than anything you've done before. Is that a fair assessment?
BMB: The problem is there's no real way to say you're aggressively trying new things creatively without sounding really ugh! I know! I practiced in the mirror and everything. I have found myself in a very wonderful place where I would actually be a bit of a fool not to be trying as many new things and new ideas as I possibly could.  The Ones joins Pearl, Phenomena, Joy Operations and other new projects where the collaboration itself is inspiring me to reach for more.
FS: Are there any other projects you're working on that you would like to discuss?
JE: After I wrap on The Ones I'll be jumping back on to finishing The Daring Double Life of Ace Adams, a superhero book that Nate Cosby and I co-created and launched as a Kickstarter. I'm also currently working on a run of variant covers for the Darkwing Duck series at Dynamite. And I wrote (yeah, I write sometimes!) a one-shot for Dynamite that will be out in early 2023 but I'm not supposed to say more than that about it.
BMB: Phenomena is on sale now. This GORGEOUS new graphic novel by myself and Andre Lima Araujo is one of my happiest moments in comics come to life.
We just opened Jinxworld on SUBSTACK delivering all new comics content via newsletter right to you.  We have the new text book project CREATION, the new autobiography Fortune and Glory: the musical, and our writing class. And more! Subscribe!
Also, The Ones joins a growing roster of comics and graphic novels in the Jinxworld line of comics at the legendary Dark Horse. Including Powers, Scarlet, Pearl, Joy Operations and so many other projects were so deeply proud of.
FS: Is there anything you can tease about what we can expect to see in The Ones down the road?
JE: I'll just tell you what I drew today. The Ones are all battered and beaten and bruised, a city is in flaming ruin, and the Evil One is sitting on a food cart eating a hot dog.
BMB: Oh, dude!! you are drawing the wrong script! [laughs]
The Ones #1 is on sale now from Dark Horse Comics.
From the official issue description:
From Award-winning writer Brian Michael Bendis, comes the next, best awesome super team to end all super teams . . . THE ONES!

Every single person in every mythology that was told they were THE ONE are brought together for the first time to defeat . . . THE ONE. The actual one. The real actual one. This amazing new vision is brought to life by wunderkind artist and cocreator Jacob Edgar (Batman, Army of Darkness). Watch as he brings explosive comics splendor to this big new world! Think Good Omens meets Ghostbusters meets The Adam Project meets The Goonies meets Everything Everywhere All at Once meets, um, anything else you've ever liked!